We arrived in Cozumel to sunny skies and a nice breeze. Looking out our stateroom window, I could see Royal Caribbean's Harmony of the Seas berthed on the opposite side of the dock. Harmony is the second-largest cruise ship in the world, and made Liberty, which was once the largest, look small.
We scheduled an underwater "mini-sub" tour in Cozumel, and conditions looked to be just right for exploring the underwater world. The mini-subs look a bit like a scooter, modified to be used underwater. The sub had a large plexiglass bubble on top that would be filled with air, creating an air pocket where you can put your head and breathe normally while underwater.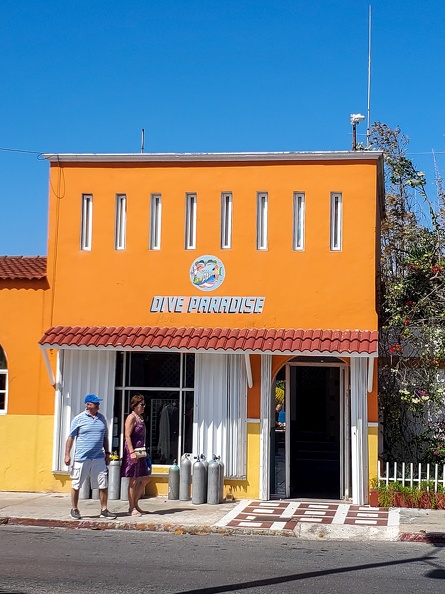 After a quick lesson from our instructor, we hopped in the water and mounted our subs. The experience of using the sub was somewhat odd. The air pocket kept your head dry, but you could feel the water line was around your shoulders. As we went deeper into the water, I continuously had to squeeze a hand into the helmet to pop my ears to equalize pressure. The bubble itself also distorted your view of other people, creating the illusion that their head was too small for their body.
The subs were slow, but provided an interesting view underwater that was much different from snorkeling. Rather than being above the fish, we were swimming among the fish. Our guide pointed out a few and brought them up close for us to touch – a small spider crab, walking sea star, sea urchin, and a sea cucumber. Alicia even spotted an eagle ray!
After drying off, we headed downtown in a taxi to seek out lunch, stopping at a place called La Mission. The restaurant was a typical tourist restaurant, not the kind of place the locals would eat at like we asked of the cabbie. Despite our request not being honored, the food was pretty good. We started off with a plate of nachos and homemade guacamole. I had a lunch of fish tacos, while Alicia's lunch was jumbo shrimp that were bigger than our fingers!
While we were eating, a mariachi band walked into the restaurant and started playing. Our lunch couldn't get any more Mexican. Some of the other guests in the restaurant got up and danced to the band's music. I made a request in honor of my father, who would have been celebrating his 90th birthday on the next day. I asked the band to play the song "Sabor a Mi."
At my father's funeral, one of my brothers told a story about Dad going to a bar or restaurant where a guy was singing. Now, my dad was a pretty good guitar player, and not so bad at singing. The story goes that the musician was not very good at his craft, and my dad made it known during his set. The musician, tired of the heckling, challenged my dad, holding out his guitar and asking if he could do better. Well, Dad put his money where his mouth was and belted out his own rendition of "Sabor a Mi." Since hearing this story, it's been Dad's song.
It was a fitting tribute for Dad's upcoming birthday.