January 4, 2019 – Cozumel, Mexico
I started to feel like I was coming down with something. I had a lot of mucus in my throat, and it's led to a cough. Ingesting large amounts of Vitamin C didn't help. I hit the invaders with another 1000-mg dose of C and had a glass of orange juice before heading out.
The pier in Cozumel was shared with a ship from Norwegian Cruise Lines – Norwegian Getaway. For some reason the good people of Cozumel weren't content with just releasing cruise ship passengers to the street. After the mile-long walk down the pier (OK, it was actually only about 1500 ft), we had to go up an escalator, over a footbridge across the main road along the waterfront, down a set of stairs and into a shopping mall – all to get to the street.
We passed shops selling the typical $8 tourist t-shirts ("Build a wall around Cozumel and make the Bahamas pay for it"), vanilla, prescription drugs, and "Mexican silver." If getting your drink on is your thing, there's also a plethora of bars within stumbling distance of the ship.
Cozumel Island is off the eastern coast of the Yucatan Peninsula, about 12 miles off shore. The main economy of the island is tourism, and it is well known for its beach resorts, scuba diving, and snorkeling. Much of the island is covered in mangrove forests, and most of the development is on the west side of the island in the town of San Miguel.
We grabbed a taxi and headed for our hangout for the day, the Nachi Cocum beach resort. Alicia had visited the resort on a previous trip and enjoyed it. The cab ride was only $25 for five of us. We squeezed our group into a Nissan Versa and headed through town where seat belt laws and common sense were nowhere to be found.
Our view through town was of more touristy shops – more t-shirts, serapes, and silver. We passed another cruise terminal where three more ships were releasing their passengers unto the town. Soon we left San Miguel and entered the less-populated resort area. The ride to Nachi Cocum was on what appeared to be Cozumel's only highway – Quintana Roo Highway C-1. On the right side, we passed the occasional entrance to beach resorts. On the left was a wall of trees separating the highway from the island's interior. I noticed there was little regard for traffic safety as cars and trucks shared lanes, passed on the right, and drove at speeds the seemed very unsafe. Traveling by car in Mexico is always an adventure in itself.
We arrived safely at Nachi Cocum with the driver advising us to give plenty of time for the return trip to San Miguel due to traffic. We got out and checked in at the resort. Nachi Cocum is a mostly all-inclusive club that limits itself to less than 200 guests per day in order to keep the experience intimate. Drinks were free (¡Uno cerveza por favor!), and so was the food. There was pool and hot tub with a swim-up bar, and of course plenty of sandy beach to play on.
I downed a decongestant and a Zicam given to me by my mother. Then had a cold beer. I could feel the cough disappearing.
I looked out a the ocean and saw it was a little rough. The water closer to the beach was a bit cloudy from the sandy bottom being churned by the waves. The boys didn't care much. They played in the pool, where they "snorkeled" and swam with their fins. Ryan swam up to the bar and ordered a piña colada on his own ("Without alcohol, please.") I relaxed in a beach chair watching birds and the waves, all the while any feeling of my cold started to disappear.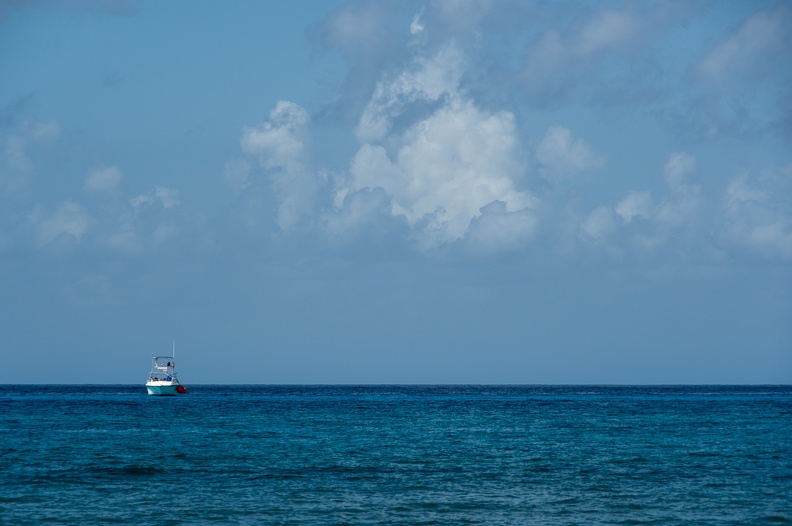 I later went into the water to try snorkeling. I found my action camera's battery was dead, so I wouldn't be able to take any pictures or video. It would not have mattered anyway because of the water's cloudiness. I swam out nearly to the rope separating the swimming area from the boating channel, but the water never got any clearer. At least it was a good swim.
I returned to my beach chair and ordered a lunch of nachos and fried chicken tacos. My compliments to the chef. Both dishes were ¡muy delicioso! I finished off my lunch and ordered a bowl of coconut ice cream for dessert. I received my ice cream and Alex eagerly volunteered to assist me with eating it until I ordered him one of his own.
We managed to get a van on the way back to port, so we all fit comfortably. We passed by more of the same shops, but then I saw a coffee shop with a multitude of motor scooters parked in front. Could this be a Mexican Starbucks?
We arrived back at the mall at port and got a (real) Starbucks, where the prices were slightly better than home. 180 pesos, or $10 US got us two blended drinks that were very refreshing. I walked around a bit and got hounded by street vendors who all seemed to be my friend – "My friend! Farmacia?"; "What do you need, my friend?"; "My friend. Come look at this!" I just wanted to go get my free tanzanite earrings from Tanzanite International. Speaking of which, the free "tanzanite" earrings were tiny studs with the tiniest bit of tanzanite (perhaps tanzanite dust) you could possibly have. Just about what I expected for free.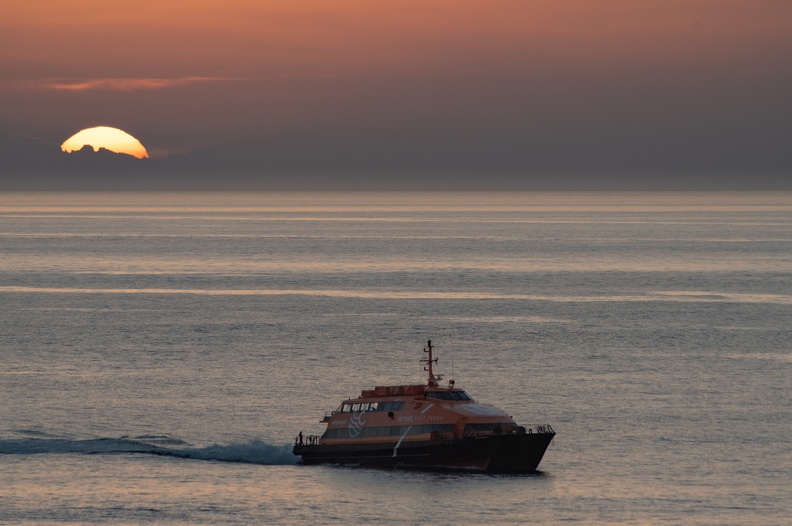 Once back on the ship, we all hit the showers for a rinse to cool off and a short rest before dinner. Alex got mad because he got sunburned and we had to put aloe on him – "What do you mean sunblock wears off?"
Alicia and Mom had gotten reservations at the on-board steakhouse for free, compliments of the casino. We started off with wonderful crab cakes and seafood chowder. Ryan, of course, ordered a cheeseburger. My filet and lobster tail were perfect. Mom got the staff to sing "Happy Birthday" to Ryan for his upcoming birthday, complete with an LED candle next to his cake. Ryan and the rest of us enjoyed our red velvet cakes.
The day was nice and relaxing. Tomorrow we arrive in Cuba.