Monday, July 25, 2022
I slept really well overnight. Maybe it was the noise of the forest, or maybe it was because I had only slept 5 hours the previous day. Despite that I still woke up with some pains in my shoulders from side sleeping, or maybe I'm just getting old.

I got around 7 and made my morning coffee. I fought the super flies again and packed up camp.

I headed down the mountain on South Grade Road, a cornucopia of tight hairpins stair-stepping down the mountain. Alternating views of the San Luis Rey Valley and the San Diego County coast were ahead of me as I continued down the mountain. Once I reached the bottom of the hill, I could feel the humidity. It wasn't quite hot yet, but the humidity was going to make things feel uncomfortable.
I took Highway 76 east and then went up Mesa Grande Road. The two-lane road climbed up into the hills and reminded me a lot of some of the roads in Northern California. My little detour dropped me back on to Highway 79 in the Santa Ysabel Valley.

I made a pit stop in Santa Ysabel at the Julian Pie Company. I had myself a breakfast of apple pie and coffee – the breakfast of champions.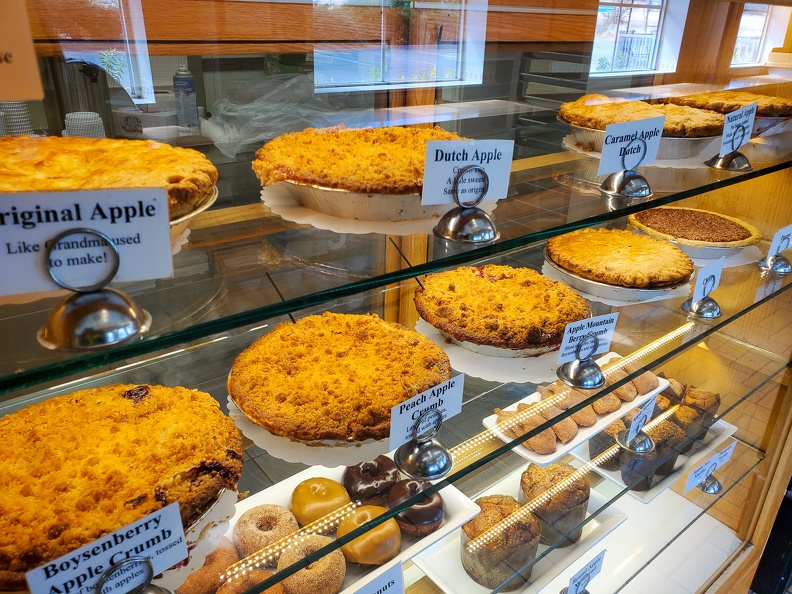 After filling my belly, I kept going toward Julian. I had to stop a couple times for construction before getting through town.

After passing Julian, I headed south on San Diego Road S-1, also known as Sunrise Highway. The road climbed up into the Laguna Mountains. The road was empty, and once again I felt like I had the place to myself. To my right were forest groves, meadows, and valleys. To my left were glimpses of the desert to the east.
Looped back on Highway 79, back through Julian and north to Warner Springs. Off in the distance, over the San Jacinto and Santa Rosa Mountains, I could see rain clouds dumping on the mountains. The weather forecast called for thunderstorms in the afternoon. My original plan had me taking Highway 371 into the mountains, but I was starting to make contingency plans. As I went through Warner Springs, I could smell the oncoming rain.
I completed my trip, passing through Hemet again, where it was only 103 today.

I'm not speeding away from the stoplight to be a jerk, I'm just trying to cool off.