December 30, 2018
We had been planning a New Year's cruise for several months. Alicia had gotten a free cruise from Royal Caribbean during her last trip. She got in touch with a company called URComped and they matched her free Royal Caribbean cruise for one on MSC. MSC has not been sailing out of the United States for long, but have been around the Mediterranean for some time. What drew us to this cruise was that one of the port calls was two days in Havana, Cuba.
Something about Cuba drew us to the cruise. Maybe it's because for so long Cuba was off-limits for Americans to visit because of the US embargo. Over the past few years, relations have been softening and the opportunity to visit was presented with some limitations.
Plus the trip was free – the best price.
The excitement was building as we got closer to departure day. We were looking forward to the trip, especially Cuba. We had made plans to see all Havana had to offer, and really looked forward to touring the city in a classic convertible car.
We spent the day of the 29th in the city. We skated at Union Square. Every Holiday season they set up an ice rink at Union Square. Though the boys don't know how to skate, they had fun on the ice. Alex "acquired" an abandoned penguin-shaped skate helper. We met up with Christelle and Armando, and their children for the skating adventure. Christelle is an old friend of Alicia's and it's always fun to get together with them.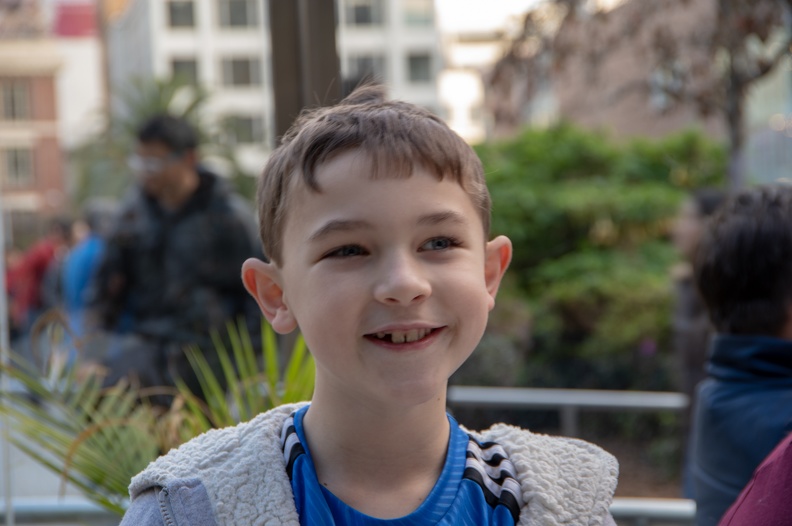 After skating, we had a fun dinner at Boudin in the basement at Macy's. The boys had a delicious-looking cheese pizza from the Wolfgang Puck pizzeria. As we headed out of Macy's, I noticed a suspicious-looking character behind us on the escalator. He was calmly going up with a purse tucked under his arm. I heard a voice from the bottom of the escalator shouting, "Sir! Sir! You can't take that off the floor without paying." I looked back and could see the character had no intention of paying attention to the employee. So I did what came naturally. I knew if I stopped at the top of the escalator, he had nowhere to go; so I did. I turned around and told him, "Sir. She said you can't take that off the floor without paying." No response from character … OK then. I reached out and grabbed the purse from him. He resisted a little, but let go of it and I handed it back to the employee, who was very thankful. The character had grabbed my wrist, but a stern stare at him made him let go and walk away without his ill-acquired prize. After he walked away I realized that certain things have become second nature to me from 10+ years in law enforcement. I instinctively turned my right side (my weapon side) away from the suspect, and I continually watched his hands (the hands will hurt you). That little bit of excitement had me feeling good for a good while as the night went on. Alex even quipped, "See? That's why you don't steal. Because someone will tell someone who's bigger and you'll get in trouble." Words of wisdom beyond his years.
We left Union Square and headed further into the city to explore a bit. We took the kids down Lombard St. – "The Crookedest Street in the World" – and got a view of Coit Tower. Soon it was getting a little late, and we had an early flight. We did our best to get through the city traffic with ease (though that's easier said than done).
The next morning we got up at 5 a.m. to take the shuttle from the hotel to the airport. The shuttle driver showed up about 15 minutes late and drove the bus like he stole it to try and make up for lost time. Nobody expected a thrill ride from the hotel to the airport!
I woke myself with a Peet's coffee and a bacon/egg croissant. The boys got muffins and it looked like half of the muffins made it to the floor in the form of mountains of muffin crumbs.
On a side note, this is also about the time I found out my phone's camera could no longer focus to infinity.
The boys occupied themselves through the flight with books, games, and in-flight movies. Despite a cramped seat, I managed to make it most of the way through Neil Peart's book Ghost Rider.
We met up with my mother at the hotel and had dinner. The boys wore themselves out by playing basketball in the hotel's courtyard, which also happened to be under the approach path for Miami International Airport.
–
December 31, 2018
Today was boarding day but not before a little cross-country business. Embarkation day was also the day of a promotional interview at work. Fortunately, the interview panel was nice enough to do the interview by phone. That's the first time I've done an interview in a pair of shorts and t-shirt. With that out of the way, it was time to go.
Our home for the next week would be the MSC Armonia. Armonia was originally built in 2001 for Festival Cruises as MS European Vision. She was purchased by MSC in 2003 and re-christened. Originally 824 feet long, she was lengthened in 2014 to 902 feet. During the 2014 renovation, Armonia was cut in half and an 80-foot pre-built section was inserted in the gap. She carries nearly 2700 passengers and more than 700 crew.
Having only cruised with Carnival before, I expected the embarkation process to be about the same: a long line with the 3000 other guests, reams of paperwork, wrangling children, waiting in line to board, the whole deal. Our process with MSC was really quick. There was no line, and MSC had a large amount of agents to deal with completing the registration process. Within a few minutes, we were walking up the gangway to the ship.
I stopped on the way to the gangway at a table with dispensers of "natural water." What exactly is "natural water?" I was not aware that "artificial water" was available as a consumer product. As it turns out, their "natural water" was just water with slices of lemon in it.
With about five hours to go before we sail, we had some time to kill. We were told cabins would not be ready for about an hour, so we did what any cruise guest would do – eat! We headed up to the buffet and circled around looking for a table for five, eventually finding one after a group got up. The chicken wrap was not too bad. The boys chowed down on the traditional pre-cruise cheeseburger.
Sitting at the table, enjoying my lunch I did what comes natural, I people watched. Looking around, I noticed something that was much different from other cruises I've been on, even those out of Miami. Most of the guests were not speaking English. This will be interesting.
After lunch we got changed into swimsuits and hung out by the pool. The pool area was surprisingly not that crowded. The kids enjoyed playing in the splash park, while Alicia and I soaked in the pool. I have never seen so many tiny bathing suits in one place. Guests of all ages, genders, and body types were walking around in itsy-bitsy teeny-weenie bikinis and speedos. From leathery old Latin and South American ladies to middle-aged guys with hairy chests and beer bellies. Even a few young children were sporting the tiny swimsuits. I didn't get the memo and left mine at home.
Because of the wide variety of nationalities on the ship, all announcements were done in several languages – usually English, French, Spanish, Italian, and Portuguese. The emergency drill was no exception. As we stood around being given information about the ship's emergency procedures, I look around and what do I see? People taking selfies while in their life vests, completely ignoring all the instructions (which included no cell phones or personal belongings at the drill).
More room in the lifeboat for me, I guess.
After the formalities were out of the way, it was time to set sail for our first port. Shortly after setting sail it was time for dinner. Cruise ship dining rooms are typically a place where you can get fancy food any night. I think I'll have the filet mignon (bacon-wrapped) and lobster tail. But where's my drawn butter? The food was good anyway. The filet was perfectly good and the lobster was nice and tender. For dessert was berry cobbler with vanilla ice cream; also very delicious.
Seeing as it was New Year's Eve and it was only about 7 p.m., I was starting to get tired after the day's activities. The boys and I took a nap so we'd be able to celebrate the arrival of the new year. The ship was looking to be one large party in the minutes leading up to midnight. The nap was just what we needed, though Alex had a little difficulty getting up.
We headed up onto the pool deck for the party. There was a stage with a band, and a large group of revelers. Champagne was ready, but only being sold by the bottle (what?) at $50 a pop. So there I was, celebrating with a can of Angry Orchard, and Alicia with a rum drink of some sort. The ship's captain came up on stage to start the countdown from one minute. There we were, about 1000 guests, the captain, and a band under the skies of the western Atlantic for New Year's at sea. 10, 9, 8 … the crowd started to get louder … 7, 6, 5 … the captain told everyone to count with him … 4, 3, 2 … oh wait, is the clock off by a minute? Who cares … 1 … HAPPY NEW YEAR! The crowd cheered, couples toasted and kissed, and the ship's horn sounded several times.
We capped off the night with fresh pizza from the ship's pizzeria. Welcome to 2019.
We headed back to the cabin to call it a night, though there was nowhere to be tomorrow since we'd be at sea all day.
Because of limited space, some liberties have to be taken when planning staterooms. Some things are made smaller than others. You need to have room for multiple beds, so you can't take a lot of space from the living area. You have to be able to hold a week's worth of clothes for up to four people, so you have to have a good-sized closet. So where do you reduce space? In the bathroom. In the case of Armonia, it appeared they chose to downsize the shower. Clark Kent would not even have room to change into Superman inside! In any event, I'm up for a challenge when it's time to clean.