Tuesday, September 19
I slept pretty well, but Dave and Greg said they didn't due to noise. Greg said "never again" to this KOA. I pointed out that a campground we stayed at in Oregon a few months prior was right next to I-5 and wasn't as loud as this one. We went into Placerville and fueled up with a plan to ride to Sonora and get breakfast.
Dave tried to put air in his tires, but in true Murphy's Law fashion, the inflator at the gas station didn't work. Dave decided to wait until the end of the day and use Greg's inflator (which was buried at the bottom of one of his panniers).
We left Placerville on Highway 49 and soon met up with a couple BMW riders. Dave and Greg took off, following and keeping pace with the BMWs. I kept them in sight, but soon they pulled away.
We stopped in Sonora and had breakfast at a place called Jeb's Hill Country Cooking. The food was really good. I ordered a corned beef hash breakfast, but a few minutes after ordering I was told they had run out of corned beef hash. I opted for a Portuguese scramble — eggs, peppers, potatoes, and linguica — instead. We chatted with the waitress, whose boyfriend rode a GSX-R. I looked around the restaurant and found a picture of Half Dome that was very similar to one I had taken on a previous trip.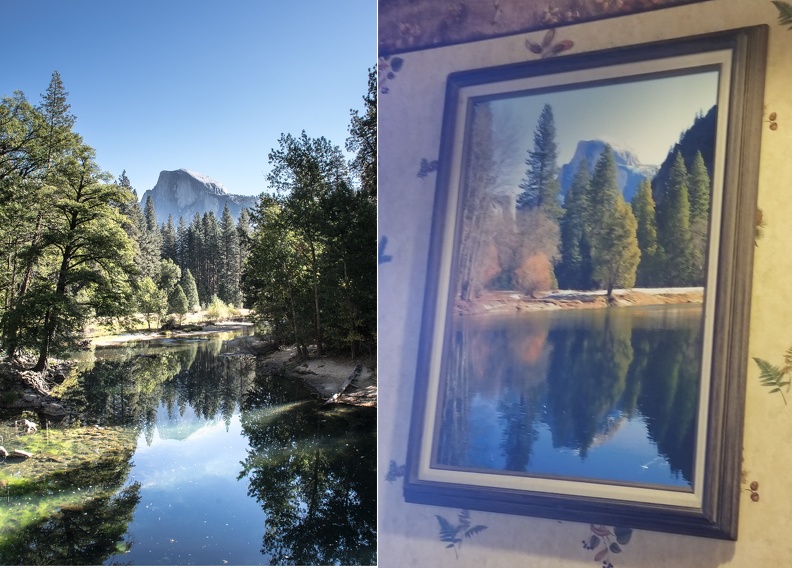 Next stop … Sonora Pass.
Sonora Pass is the second-highest highway pass in California at 9624 feet. The terrain gradually climbs in elevation leaving Sonora, and you're presented with some great twisties as you climb. Once again, Dave and Greg took off ahead. I was having fun just doing my thing.
I soon came across the Donnell Vista Point and decided to stop in, since Dave and Greg were ahead of me and I wasn't about to catch up. What's a few minutes to take in a cool view and maybe get some pictures? Well, surprise surprise! I pulled into the vista point and Dave and Greg were there! How about that?! I walked around and took some pictures of Donnell Lake. Greg flipped off the camera when I turned it towards him.
We continued east and soon reached Dardenelle. It was odd that this area was relatively flat, especially knowing that a climb was ahead of us. I could see the mountains in the distance, and knew we still had to get over them. The scenery was amazing nonetheless — this large valley surrounded by tall mountains.
Soon we reached a sign indicating a 26 percent grade. Twenty-six percent! That's 26 feet of rise for every 100 feet of horizontal travel. It works out to an angle of 14.57 degrees. If you draw it out on paper, it doesn't look all that steep. Most roads that go uphill or downhill will have a grade of 6 or 8 percent. To make a comparison, a 6 percent grade is an angle of 3.43 degrees. These angles don't actually sound very large, I'll try to simplify to make it something to visualize the slope:
Let's change the rules of baseball. Instead of a level field, you have to run up a ramp from home plate to first base when you hit the ball. It's no longer running 90 feet, it's now running 90 feet uphill. If you were to built that ramp from home plate to first base at a 6 percent grade, the end of your ramp would be about 5 feet 5 inches above first base. If you were to build the same ramp at a 26 percent grade, the end of the ramp would be 23 feet 5 inches above first base!
Sure, there are steeper roads out there in the world, but this was the steepest I've ever been on.
Now, thinking about steep roads and vehicles with manual transmissions, what is one thing you would not want to do on a 26 percent grade? Right. Stop. If you stop on such a steep road, you're going to have a hell of a time going again. You have to feather the clutch just at the edge of the friction zone, while finding the right engine speed to give the bike enough power to move forward (upward?) and not stall. Oh … and you have to do it with a hand or foot on the brake so you don't roll backward.
Well, somebody (not going to mention Greg's name) decided to stop on this 26 percent section to take a picture. It was quite a feat getting going again after stopping to wait for him.
Despite all the steepness and windiness of the road, the views were nothing short of spectacular! From some spots you could see into the deep valley below, or into the Great Basin, which lies east of the pass. The downside is you can't really look at the views as you're riding. You need your entire attention on the road!
We all stopped at the top of the pass — 9624 feet, right on the Tuolumne-Mono County border. We took the obligatory pictures and walked around a bit to stretch our legs. I walked a little way up a nearby hill to get a view of the east side of the pass and the basin beyond it.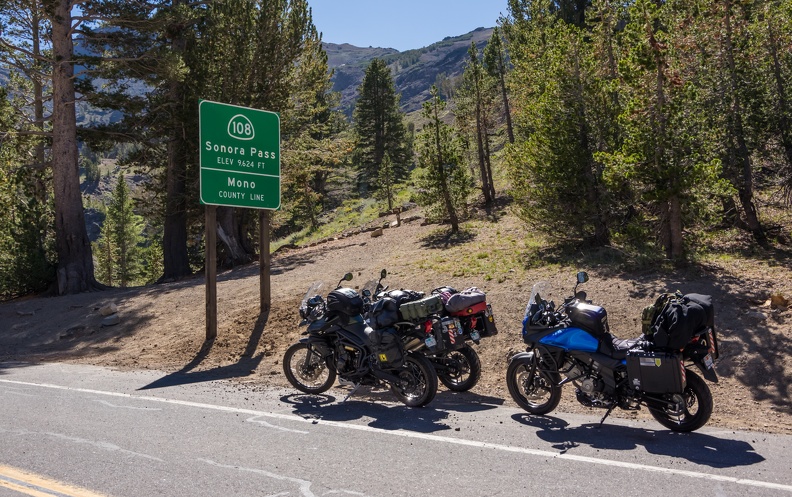 The Sierra Nevada is an interesting mountain range. And maybe writing about that will explain what happens after you crest Sonora Pass. The Sierra Nevada is for all intents and purposes made of a single block of rock known as the Sierra Batholith. Think of it as a door laying on its side with its hinge on the west. If you were to open that door and look at it, you'd see on the hinge side, the door gently rises, but there's a steep drop at the end. This is pretty much how the Sierra Nevada formed. Many millions of years ago, the block of rock that makes up the Sierra Nevada started to lift on the east side. This continued on for millions of years, leaving a mountain range that gradually slopes up on the west side, but quickly drops on the east side.
Back at the bikes, it felt like being at the top of a roller coaster. There's nowhere else to go, but down. And Sonora Pass did feel like a roller coaster. Looking east, the road makes a left-hand turn out of sight and you can see it's already starting to go down. Greg told me this: All that elevation we gained going up the pass from Sonora we lose in 10 miles. While this is not entirely accurate, it gives you an idea of the topography of the Sierra Nevada. Sonora (which we'll call the western end of the pass) has an elevation of 1785 feet, and the road from Sonora to the top of Sonora Pass climbs 7839 feet over about 65 miles. On the east side the road drops 2824 feet in 10 miles from the summit of Sonora Pass to the USMC Mountain Warfare Training Center. If one was to draw a straight line from the top of the pass to each end, the line from Sonora to the summit would have a slope of about 2.28 percent, while the line from the summit to the MWTC would be more than twice as steep at about 5.35 percent.
I'll tell you, the road down from the pass did not seem as steep as the one going up. I'm not really sure how to explain this. Maybe it was cut differently.
Once through the pass, we stopped at the intersection of Highway 108 and US Highway 395 to figure out how much farther we'd go. Our tentative plan for the next day was to make it to Panamint Springs in Death Valley to visit "Star Wars Canyon." We decided Mammoth Lakes, 71 miles south, would be a good stopping point where we could pick up provisions and find a place to camp. While discussing this, an officer from the California Highway Patrol stopped to chat with us. I'm pretty sure cops can sniff out their own quite easily. Via a strange coincidence, the officer was very familiar with where we were from because he used to work in Crescent City! It truly is a small world.
We slabbed it on Highway 395, passing through Bridgeport, Willow Springs, and Lee Vining. The winds picked up as we got closer to Mono Lake. The thing about the Sierras is all that air that goes up one side, has to come back down the other. Since the east side is so much steeper, the air falls much more quickly, leading to very strong winds on the east side. I'll get more into the wind later. Crosswinds are not one of my favorite things to deal with when I ride, but I managed just fine.
We turned onto Highway 203 and headed west toward the town of Mammoth Lakes. I had been to Mammoth Lakes a few times as a child. My dad took my brother and I there to see Devil's Postpile. Back then it was a small down with a few hotels and resorts and some shops here and there, as far as I can remember. I always remembered that it seemed weird that none of the restaurants (even the McDonald's) were open for lunch and then closed until 5 pm.
I was surprised when I rolled into Mammoth Lakes to see that it has grown substantially. There seemed to be a lot more commercial properties, and high-end resorts everywhere you look. There was also a lot of traffic!
We stopped at Vons to pick up food for the night. For such a small town (The population is about 8000), this had to be one of the busiest grocery stores I had ever seen. Every checkstand was open with five to ten people waiting in each line. I would imagine that with the town population and the high number of people who come to visit the area for all its outdoor activities, this is a common thing at this store. Dave and I went in first, while Greg waited by the motorcycles to figure out where we'd camp. Somehow, despite Dave and I going in at the same time, I checked out and Greg went in and made his purchase all before Dave was able to get out. He must have found the slowest line.
Camp for the night was the Twin Lakes Campground. Adjacent to the campground were two lakes, so I can't figure out how it got its name. In addition to the lakes, the campground sits at the southern base of Mammoth Mountain. All the campsites by the lake were taken, so we circled around looking for a suitable site, finding a large site in the northeastern corner with a great view of the mountain.
It was windy at the campground and the temperature quickly dropped when the sun went down. Dave and I gathered some fallen tree branches and got a fire going, which was nice, but then the winds kicked up and put it out. Dave was able to get the fire going again, but some of the wood was just not dry enough to stay lit. Greg and I walked out on a nearby trail to get a clear view of the sky. There was not a cloud in it! Due to the altitude, there was little air to hide any stars, and we were greeted with a thousands of pinpoints of white light and a wonderful view of the Milky Way. We even caught a glimpse of a few satellites passing overhead, and I saw a meteor streak through the sky. Soon, the cold got to be too much, and we decided to head back to camp.
We turned in early that night to get out of the cold. My tent did a good job of keeping the wind out, and my sleeping bag worked well to keep me warm.
Day 3: 237.12 mi. Total Distance: 681.32
Highways Taken: CA-49, CA-108, US-395, CA-203